Agents of Truth: Merchandise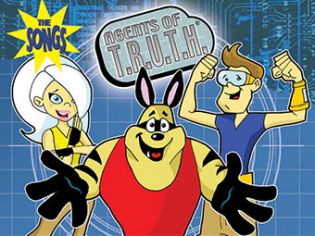 (11 images)
Agents of T.R.U.T.H have a range of merchandise that can help your kids connect with the mission of The Salvation Army, and to help them live in relationship with Jesus.
These resources are great for use within your Kid's Church program, or as an outreach in your community.
The following merchandise can be purchased at http://salvos.org.au/agentsoftruth/shop/:
Agents of C.U.T.E magazine - see Eve, Logan and Bally when they were toddlers in this cute book for the very young and young at heart.
Christmas is a Time for Giving DVD - Join the Agents of T.R.U.T.H. as they discover Christmas is a time for giving - packed with extra songs and a bonus show. 
Crossbones comic - Recommended for ages 8 Years and up.
Eve & Bally plush toy
Fun magazine - 48 pages of comics, puzzles, fact files, colouring-in, missions, villains, new Agents and a whole lot of FUN!!
Money Boxes - to teach children how to be smart with their money.
Stickers - 10 sheets of 8 stickers Perfect for Sunday School. Kids Clubs or street ministry
Super Happy Agenty Fun magazine - Join the Agents for some super, happy agenty FUN - in a 20 page book full of stories, jokes, songs and prayers. Comes with bonus 5 track CD.
Tell The World DVD - Join Eve, Logan & Bally as they TELL THE WORLD about their mission to save, grow and serve. Plus see the story of how the Agents of T.R.U.T.H. found each other!
Category: Evangelism / Outreach, Other
This resource is included in the following collection(s):