Cultivate Rural Newsletter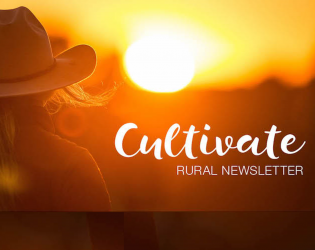 Contents -
Engage: Don't be overwhelmed. A discussion of responses to the drought crisis in NSW and QLD.  
Australian Story: Robin and David Pullen – reaching the far reaches.  About being chaplains to a massive area, approximately 38% of NSW during a time of drought. 
Resources that equip: 
- Hang on, help is on its way: extra resources coming soon
- Link to video presentation by Julie Grieg, applying the story of the woman at the well to her work uniting city and country, a theology of relational ministry 
- Norm Beckett, the theology of land and spirit 
Training that empowers: 
- Thought matters conference
Contents -
Engage: Celebrating NAIDOC 2018 theme 'Because of Her, We Can' - a profile of Doris Ross, the remarkable mother of Uncle Vince Ross, well known indigenous Salvationist and Chairperson of The Salvation Army Aboriginal and Torres Strait Islander Reference Group.
Australian Story: Sue Hodges: love, healing and forgiveness. Get to know Sue, the Aboriginal and Torres Strait Islander Divisional Engagement Coordinator in NSW.
Resources that equip: 
- Cultivate Conference presentation video Cathryn Williamson presenting Kids in the Kitchen
- Downloadable NAIDOC resources (10 ideas for NAIDOC week 2018)
- Downloadable Aboriginal and Torres Strait Islander Ministries brochure - contacts and details for NSW
- Moree, engagement and leadership link to video about Jason and Jess Poutawa's programs engaging local primary school kids
Training that empowers: 
- Report on IRCA conference by Captain Joanne Smith
- Report on MC18 rural youth conference in Tamworth NSW by Captain Nathan Hodges
Contents -
Engage: When hope comes to town. Taking advantage of rural transformation, the inspiring story of the Eumundi artisan markets 
Australian Story: Joel and Yolande Soper - use what God's given you From Tenterfield NSW, a lesson about the importance of creative relational ministry in rural areas. 
Resources that equip: 
- Matt Cairns from Cultivate Conference, video of a session on the use of data in rural ministry planning
- Website services available from Mission Support Team
Training that empowers: 
- Fellows Program applications
- IRCA conference links. 
Contents -
Engage: Keeping Hope Alive - encouragement for 2018, where there is hope there's life 
Australian Story: Souper Heros. Profile of an inpiring program with year 9 girls from the Monaro Links to Learning High School, selling bowls of soup to the local community and more. 
Resources that equip: 
- Links to all the resources from Cultivate Conference 2017
- Equipping for Rural Mission, program for your rural church to plan effective mission
- How to Reach and Plant in Regional and Rural Australia, 60 minture webinar on the Geneva Push website. Features interviews with Bruce Bennett from Orange Evangelical Church and Ross Pethybridge from Dalby Presbyterian church
Training that empowers: 
- A list of workshops run by Karen Lattouf, who is a 'Leadership Development Consultant' for the Salvation Army. She will come and run the workshops personally, and has a good understanding of the demands of rural ministry. 
Contents -
Engage: The greatest gifts Maree shares the significance of her most fondly remembered Christmas gift, handmade by her daughter at age 10. 
Australian Story:  Blessing of the fruit cake. A beautiful story about Salvo volunteer Ernie, who kept his departed wife's fruit cake recipe alive and how it became it a blessing for many 
Resources that equip: 
- SArmy Christmas Resources, great Christmas resources
- Review of 'What a Hope' by Gilbert Ellis, easily adaptable for studies or talks
- Scripture Union Christmas Party Pack, great free downloadable resource for community christmas activities
- Welcome Pack, Germinate Ministries, another free downloadable resource, particularly aimed at building welcome and hospitality ministries for rural churches
- Harmony Day Grant availability
Training that empowers: 
- Reflections from the NSW Rural Women's Gathering 
Contents -
Engage:  Spring and God's gift of rejuvenation, in nature and in us (along with some great photos of Floriade flower show in ACT)
Australian Story: What's behind the Red Door? Salvos Stores are often community hubs in rural areas -  Captains Dale and Darlene Murray partner to establish a minstry space in the Armidale Salvos Store.
Resources that equip: 
- 'Creating vibrant churches in small towns', useful podcast link including a number of interview with rural ministry specialists
- Review of 'Surprise the World' book and study resource website - 5 habits of highly misisonal people
- RightNowMedia, free access to quality online resources
Training that empowers: 
- Hope rising. An inspiring foretaste of Rt Rev. Rob Gillion's message to the first Cultivate Conference
- Major Lea Palmer's 'Jesus Culture' life sessions
- Link to the next International Rural Churches Conference 'Growing Together'
Contents -
Engage: Holding on to Hope!  Maree Strong's impressions of visiting all Corps and centres in North West NSW.  Stories of transformation and adaptation. 
Australian Story: Stitches with Care  How a ministry of knitting established by Laurelle Murphy, a member of Tuggeranong Corps in NSW took off and grew organically. 
Resources that equip: 
- Kids in the Kitchen update
- Review of 'Partnering with God' by Lt Colonel Lyn Edge and Major Gregory Morgan, exploring the role and identity of The Salvation Army in the mission of God. 
Training that empowers: 
- Profile of Julie Grieg, speaker at Cultivate Conference
Contents - 
Engage:  Why Culitvate?  'I chose "cultivate" as the title for both this bi-monthly newsletter and the Rural Ministries Conferences because of its rich, "organic" definition and its obvious connection with rural life...'
Australian Story:  Major Cathryn Williamson reports on the 'Kids in the Kitchen'
Resources that equip: 
- Review of 'Growing Young': 6 strategies to engage young people
- 2 books to help with funerals: Consolations, by Lieut-Colonel John Staite & On a Winter's Mourning by Lieut-Colonel Lucille Turfrey
Training that empowers: 
- Announcing the first Cultivate Conference
Contents - 
Engage: Never Say Die! Some biblical inspirations to hope for rural communities, and a link to a video about the transformation in Mingoola.  Also a report on the Rural Ministry Symposium in Canada, November 2016
Australian Story: Salvos on the Road. Captain Sandra Edge shares plans for Deniliquin and beyond
Resources that equip: 
- Book review, Church and Countryside
- Link to The Country Way website
- Interesiting interview with Rob Gillion, Anglican Bishop of Riverina featured on Landline
Training that empowers: 
- 'Journey to Faith' training package for rural churches free download
- Link to Germinate rural ministry website from the UK... many relevant resources
Contents - 
Engage: Introducing Maree Strong and Cultivate "People in the rural scene need the Lord. Through simply living out our lives we can show people that the Gospel is relevant and worthwhile. Stars shine brightest in the country and in rural ministry we are free to shine like stars..."
Australian Story: Hope Bringers - Lt-Colonel Miriam Gluyas, Divisional Commander NSW discusses the impact of rural ministries. Spotlight on Narrabri - Lt Belinda Cassie reflects on how God is working in a community with a widening economic divide.
Resources that equip:
- 4 perennial needs of rural individuals
- Go West initiative: help with creative ministries
- Signposts for rural ministry
- rural specific resource website
Training that empowers:
- Online courses at Booth College
- Uniting Church resource with 12 tips for maintaining health and progress in rural ministry
Category: Training / How-To
This resource is included in the following collection(s):