You are here:
Home › Toolkit › FOLLOW UP CARDS GROWING IN CHRIST DISCIPLESHIP RESOURCE (Resource ID 601)
FOLLOW UP CARDS - GROWING IN CHRIST - DISCIPLESHIP RESOURCE
Enquire about this resource
missionresources@salvationarmy.org.au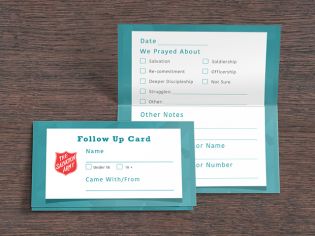 If you would like a book that you can go through with someone as you disciple and mentor them you can order "Growing In Christ" from the Mission Team for $5.
You can use this book in a 1-on-1 context or in a small group.
Simply email missionresources@salvationarmy.org.au and let us know how many you would like.  
Category: Administration / Forms