Homelessness Week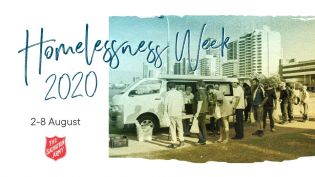 Homelessness Week will run from 2-8 August 2020. 
The Mission Support Department has produced:
Leaders notes - to help leaders prepare, and
PowerPoint slides - including prayers, Scripture and suggested actions.
As we come together and recognise Homelessness Week 2020, we want to show our solidarity with those who find themselves without a safe place to live and sleep. The goal of recognising this week is to work towards eliminating homelessness. The Salvation Army works with many different organisations and individuals in their aim to see homelessness eradicated.
God created the world as a safe home for people to belong and flourish in life.
This resource is included in the following collection(s):