PASS THE SALT: Conversation Starters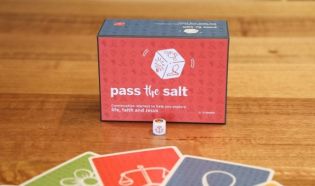 Pass The Salt is a card game designed to start conversations that help people explore life, faith and Jesus.

Junior Edition for kids and Social Media Cards now available!
Each box contains 125 question cards, divided into 5 categories:
Ideas
People
Relationships
Justice
Environment
The Junior Edition has 141 question cards (divided into the original 5 categories) and our all new feature cards:
All play
Act it out
Finish this sentence...
To find out more, click HERE.
To order either box for $19.95, click HERE.
Do download digitial Pass the Salt - Social Media Cards, click HERE.
To download ideas for use as a mission resource, click HERE.
Category: Discipleship
This resource is included in the following collection(s):