You are here:
Home › Toolkit › Territorial Salvos Women Project 2018: The SIMBA Project, Kenya (Resource ID 1030)
Territorial Salvos Women Project 2018: the SIMBA project, Kenya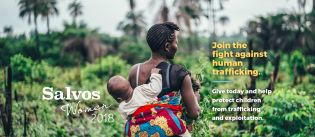 Worldwide, 28 per cent of trafficking victims are children, but children account for 62 per cent in Sub-Saharan Africa. 
Kenya is a source, transit, and destination country for men, women, and children subjected to forced labour and sex trafficking. Within the country, children are subjected to forced labour in domestic service, agriculture, fishing, cattle herding, street vending, and begging. Girls and boys are also exploited in prostitution throughout Kenya, including in sex tourism on the coast. 

The SIMBA project aims to educate whole communities about the signs and dangers of human trafficking, and teach people how to avoid being trafficked and how to report trafficking attempts.
Over 2,000 adults and children will be trained to train others.
Rights of Children (ROC) clubs are being set up in schools, providing children with a space and platform to air their views, to be role models and to learn to speak confidently with adults.
Category: Events / Campaigns
This resource is included in the following collection(s):