Video: Officership 2021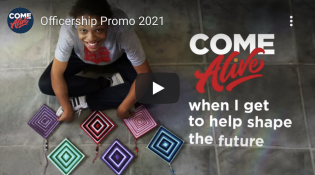 Officership Promo Video: Come Alive 2021
Runtime 1:22 min 
Play this short clip as part of your pre-service loop, during announcements, or as the opening/close to a sermon. 
If you would like to download this clip, due to the size, the Officer Recruitment Team will need to send you a link. Please email:Christopher.Trodden@salvationarmy.org.au
Category: Discipleship
This resource is included in the following collection(s):
About the sharer
These resources will help you have engaging conversations with leaders and help them in their journey towards officership. Resources include video clips, posters, sermons, study notes, mall group discussion, articles, social media posts, conversation guides, and more.
Resources Uploaded

21

Resource Views

1,831

Average Rating