Youth & Kids Ministry Conference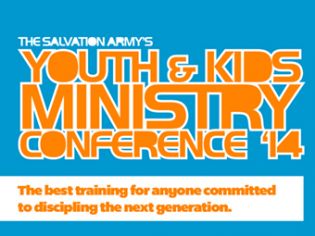 Youth and Kids Ministry Conference is a weekend experience with a big goal – to inspire, encourage, teach and connect people committed to serving young people. Whether you lead in a kids church, community program, youth group or school you will join with hundreds of others who share your passion at YKMC. The weekend consists of 4 main sessions and over 30 workshops, connect groups and a resource marketplace.
Is it for you?
YKMC is for volunteers and employed leaders.
It's for the brand-new and the ministry veterans. 
It's for spouses and kids. 
It's for senior pastors. 
It's for ministry teams.
If your passion is early childhood, children, adolescents, young adults or families you will find teaching and discussion relevant to you.
This is a great training opportunity for anyone who wants to learn about new initiatives or information for their ministry. 
For more information, or to register for YKMC, head to http://salvos.org.au/ykmc/
Category: Training / How-To, Events / Campaigns