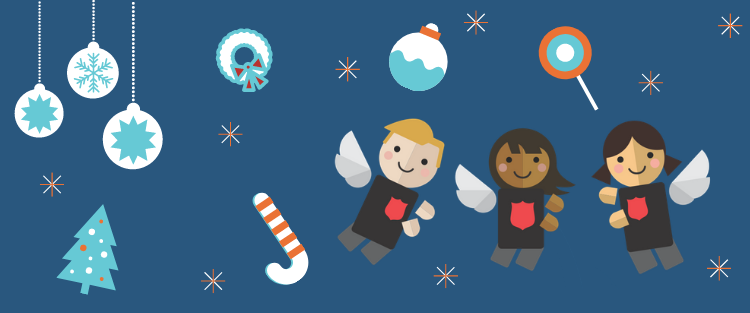 Christmas Resources 2020
If you are engaging volunteers this festive season, take the time to look at our suite of resources and tools. it is especially important that we plan well and ensure we have consulted the appropriate people/teams to safely and effectively engage volunteers. 
Christmas volunteers will not need to be recorded in Salvos Workday if the volunteer opportunity fits the following criteria: 
Less than seven (7) days of volunteering (regardless of hours involved) 

Does not require an integrity check 
If you have a volunteer role which requires a commitment of over 7 days or an integrity check, please discuss with your VR Advisor. 
PLAN | RECRUIT | SELECT | INDUCT | RECOGNISE | EVALUATE 
---
PLAN
Due to COVID-19, there are some additional steps required this year to ensure your Christmas events and volunteer activities can safely be executed. 
Must do: 
Please speak to your WHS Consultant about your Christmas event. They will help you develop a documented COVID-19 safety plan
It's vital that both TSA personnel and those we serve can participate in the activity safely 
If it is helpful, you can complete the activity briefs below and use this to discuss with your WHS Consultant 
a) Christmas Activity Brief - Individual Volunteers 
b) Christmas Activity Brief - Corporate Volunteers 
---
 RECRUIT
If you are running Christmas activities and need volunteers, Volunteer Resources can help! We can help connect you with the right volunteers by creating free customised ads on Seek Volunteer. 
Please complete 2020 Christmas - Recruit Volunteers Request Form 
This should take you about 5-10 minutes to complete 
The more information you can provide, the better the Seek ad we can create 
Using the information you provide, we'll create a Seek Volunteer ad for you. Potential volunteers will be able to express interest directly
Want to advertise locally? 
Sometimes Seek Volunteer just isn't the answer. You might find that putting up posters at the local shopping centre or library works better.
Download the Customisable Christmas Recruitment Flyer 
---
SELECT
Once a volunteer has expressed interest in your Seek Volunteer ad, contact them as soon as possible - this helps ensure they don't lose interest. 
When you contact volunteers please you should conduct a brief screening related to COVID-19. We have provided some suggestions below, but please check with your WHS Consultant for the best screening questions related to your state/territory. Anyone who falls under the 'vulnerable' category must complete a risk assessment before being engaged as a volunteer. 
COVID-19 screening questions-example:
Have you or anyone in your houseful been recently diagnosed or tested for COVID-19? 
Are you or anyone in your household unwell or self-isolating? 
Have you or anyone in your household been in close contact with a COVID-19 positive case? 
Do you fall under the category of COVID-19 'vulnerable person'?

Age 70 or older 
Age 65 or older with one or more chronic medical conditions
Aboriginal and Torres Strait Islander aged 50 or older with one or more chronic medical conditions 
Significantly immunocompromised or undergoing immunotherapy 
Have a medical condition and doctor has advised you that you are at increased risk?
Paperwork
Before a volunteer can engage in your Christmas activity, they must first complete and sign the necessary paperwork.
Roster templates 
To help with your rostering needs, we've provided a few different templates you can download and use for your own events. 
---
INDUCT
Keep your volunteers safe and happy during your Christmas events. Read some of our tips and download the volunteer sign-in sheet!
---
RECOGNISE
Time to say a big 'thank you' to all the incredible volunteers who have generously given up their time. This will not only make them feel valued, but also increase the chances of ongoing engagement.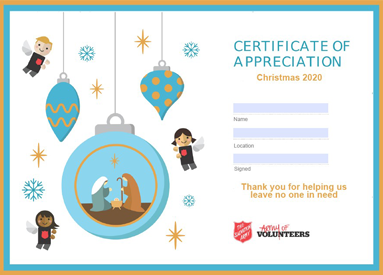 ---
EVALUATE
To make things run smoother for next time, don't forget to ask your volunteers about their experience. Connecting with them post-event is also a great way to invite them to other Christmas activities and future events!