Salvos Workday for Volunteers - back on
10 August 2020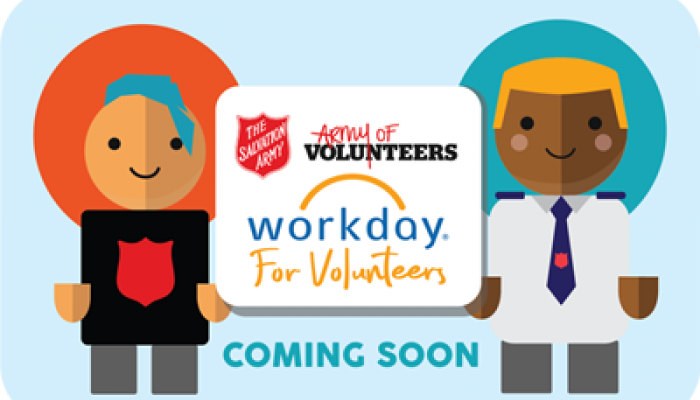 In Salvos Link edition, Thursday, 6 August, it was announced that the Salvos Workday (SWD) project for volunteers and learning had recommenced. The project was initially due to go-live in July but was delayed enabling us to better respond to Covid-19 and our changing environment.
This project will see our current Volunteer Management System (VMS) transition over to SWD to create a single source of truth for all our workers and worker data.
As volunteers are our largest and most varied workforce, SWD for volunteers is essential in streamlining processes, increasing visibility and will also allow us to better recognise and acknowledge our incredible volunteers.
For the volunteer portion of the project these are the key details to know:
At the time of writing this, no go-live date has been confirmed, but we know it's coming this year

When the SWD for volunteers launches later in the year, only Managers and Administrators of volunteers will have access (volunteer access will come at a much later date)

To make the transition of volunteer management to SWD a manageable one, all volunteer data should be entered and maintained in the current VMS
Much work needs to be done from now until go-live date, so Volunteer Resources Advisors across the country will be reaching out to managers of volunteers to help get their site ready and prepared. The main focus will be around getting each site 'data ready'. 
What is data ready? Data ready means that your volunteer information meets the minimum requirement for SWD. Getting the data ready before go-live is an essential step to ensuring your volunteers are represented and their information correctly stored. Your Volunteer Resources Advisor will help you identify gaps and solutions in your current volunteer information.
Your Volunteer Resources Advisor will be there to support you every step of the way! 
Contact your Volunteer Resources Advisor for any questions or support you may need.