Salvos Workday for Volunteers launching 21 Oct
3 September 2020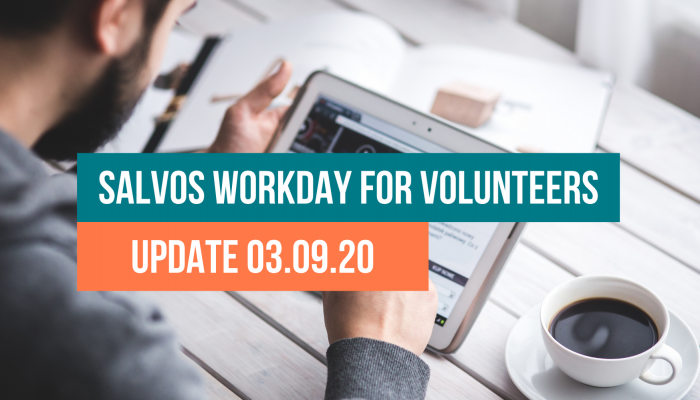 Salvos Workday (SWD) Phase 2-2 has recommenced and the preparation work for its Volunteer Stream implementation is well and truly underway. Wednesday 21 October is go-live for expressions, with Salvos Stores taking a staggered approach. Further information on this will be sent out soon.
The integration of TSA's largest workforce into SWD is a great step forward. For the first time, managers will be able to recruit, manage and see all their workers in the one system. With the enhanced support around integrity checks, SWD for volunteers will give us the tools and resources needed to better manage our people.
Next steps:
Managers and Administrators of Mission Volunteers have worked hard to ensure their volunteer data is accurate and up to date in VMS. In preparation for our volunteer data migration, please ensure current volunteer data is in VMS by Friday 11 September. Please contact your VR Advisor ASAP if this deadline is not achievable.
After this date, you will be able to make minor updates, such as archiving or adding volunteers but only until early October.
To allow for clean data upload, please continue to follow these steps until 11 September:
*If you're not using VMS to update your volunteer records, please continue to work with your VRA.
For any Volunteer Resources support, please contact your Volunteer Resources Advisor.
Training for Managers of Volunteers and Administrators of Volunteers
Salvos Workday users will receive specific training relating to the recruitment and management of volunteers in SWD. Training activities will run for a month, starting 28 September and continuing until 23 October 2020.
​​​​​​​VR Advisors will set up advance meetings to provide information about the format of the training and to go through any necessary pre-training preparation.  
Support resources will also be made available through the Salvos Central Workday Toolkit as well as the Volunteer Resources Website and Salvos Stores platforms. Training support materials include step guides, video guides, user manuals and a quick reference guide.
Help us build our SWD for Volunteers FAQs – click here to tell us what you'd like to know.