Easter: Out of Darkness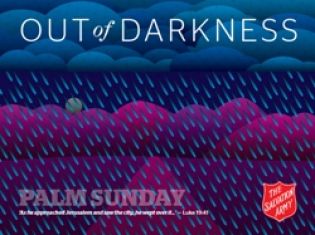 In 2011, ANZAC day fell on what would normally be Easter Monday. Many young Australians go on pilgrimage to Gallipoli hoping to connect with their family history, and discover things about themselves that have been defined by that family history. The "Out of Darkness" resource pack aims to lead us on a similar journey, back to Calvary, back to the sites and the events that define who we are as the people of God.
The theme verse for this series is 1 Peter 2:9, "you are a chosen race, a royal priesthood, a holy nation, a people for his own possession, that you may proclaim the excellencies of him who called you out of darkness into his marvellous light". We will join Jesus on his journey towards Jerusalem, and find that in the darkness of his journey to the cross, that God's purposes were being achieved. The series climaxes with the resurrection, that marvellous light that floods throughout Christian history, showing that no matter what happens in life, God has a good plan for the restoration of the whole of creation that will be fulfilled.
The resources attached include Sermon Outlines and PowerPoints for the week of Easter. All the resources have been designed to be used as part of the package or to be pulled out and used on their own. 
Category: Events / Campaigns, Promotion / Communication, Vision / Inspiration
This resource is included in the following collection(s):