Australia One Update - 6 November 2017
6 November 2017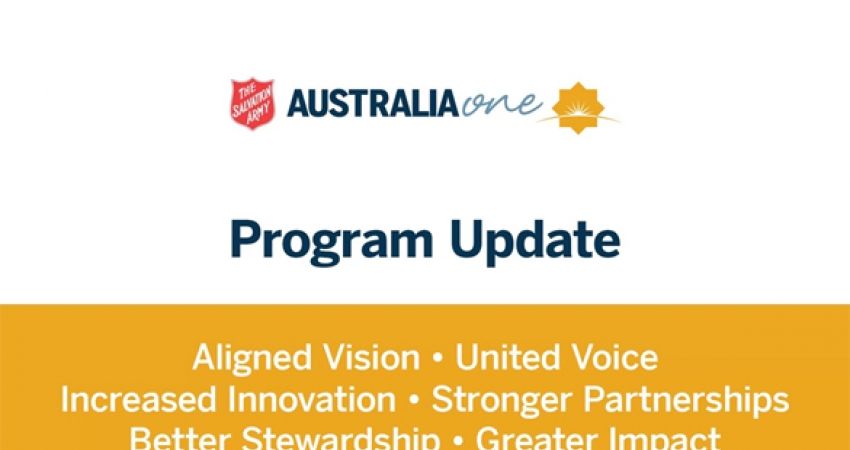 Key Points
VicOne Update: Transitional structure for Divisional Finance teams announced
New infographic update on the roadmap
VicOne Update 
Last week, the VicOne consolidation project announced the transitional structure for Divisional Finance teams in the newly formed Victoria Division. Based on current plans, existing finance roles will continue until 30 June 2018, reporting to Major Leanne Ruthven, Assistant Divisional Commander from 10 January 2018. Divisional Headquarters Finance Teams will remain in their current locations until further notice.
Victoria State Leaders, Lt Cols Bruce and Debra Stevens travelled to all existing Divisional Headquarters over the past week to meet with Victorian Officers, staff and volunteers to provide a face-to-face update on the project. Affectionately known as 'A chat with Bruce and Deb', a webcast option was also provided to people who couldn't attend in person. These online forums will occur for Victoria-based Officers, staff and volunteers every fortnight. For further information, please email: vicone@aus.salvationarmy.org.
To learn more about the VicOne consolidation, click here to view the fact sheet.
Roadmap Check-In
This week we check in with the roadmap. We've created a 'Roadmap Update' infographic that provides a dashboard view of each department as they progress through the department design, organisation structure implementation and system & process implementation phases. We'll continue to provide updated versions of the infographic as we progress through the Australia One journey towards January 2019.
Keeping Informed
This update was originally posted on the Australia One website. 

You can keep up to date with the latest Australia One news and information by visiting the Australia One website, or in your monthly edition of OTHERS magazine.
You can also contact Australia One directly by email:
AustraliaOne@aus.salvationarmy.org (AUS)
AustraliaOne@aue.salvationarmy.org (AUE)