Laura Vidal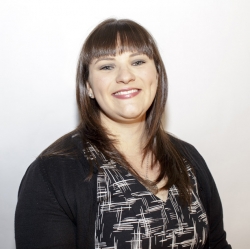 Laura Vidal is National Projects Coordinator for The Freedom Partnership To End Modern Slavery. Laura was a Fellows recipient in 2012, and her scholarship allowed her to travel to the USA to learn more about the international anti-trafficking and anti-slavery movement where she also attended the United Nations Conference of the Commission on the Status of Women. 
What inspired you to apply for the Fellows Program? 
The Fellows Program was in its first year when I was applying. It was a new and exciting opportunity to be able to further develop my knowledge about human trafficking and slavery. It was an opportunity to be able to do something that typically would not have been funded through other avenues.
How has the Fellows Program allowed you to overcome barriers, and achieve your educational/professional goals? 
I have been working in the field of anti-trafficking for almost 8 years.I was awarded my fellowship early on in my career and it gave me confidence. I have since gone on to complete a Master's Degree and have grown in the organisation to hold a unique and specialised role with The Freedom Partnership-to End Modern Slavery.
What have you been able to achieve/implement into your workplace since the completion of your course? 
The Fellows Program allowed me to see the work I do through a different lens. I travelled to the USA to look at how the anti-trafficking/slavery response operates there; this experience provided me with comparative reference points, informed my approach to program development and was also an example of a place where the anti-trafficking response was more advanced. This experience built my body of knowledge that I still use in the role that I hold now, I have been able to take out 'the good bits' and apply them to this work in Australia.
Having completed your course or conference program, how have you been able to positively influence the work and mission of The Salvation Army?
I have remained working in anti-trafficking/slavery work with The Salvation Army since my award of a Fellows scholarship in 2012. The knowledge I gained through this experience has been beneficial in continuing to shape the direction of our work in Australia. The United States has been working on this issue for a much longer time, so it is a good example of what works and what doesn't work, particularly because Australia is really in its infancy when it comes to addressing this issue. We can avoid making the same mistakes or 'taking the long road' if we are informed.
How have you personally benefitted from this opportunity? 
I had a great experience! I was able to grow professionally and personally through the Fellows Scholarship. I travelled in the US for 6 weeks, travelling changes how we see the world and ourselves as a part of the world. It also helped to shape the direction of my career and cement my passion for ending slavery!
Do you have any further plans to study in the near future?
I believe that part of being a professional is a commitment to ongoing learning. Things are changing all the time, there is always something new to consider. So, to answer the question, perhaps not 'formal' study in the near future, but certainly continuing to explore, expand and improve how I work by taking up opportunities for learning.
What advice would you give others who are interested in applying for a Fellows Program? 
Think outside the box! The Fellows Scholarship is an opportunity to do something that may not be offered anywhere else, take advantage of this unique opportunity, bring back your knowledge, and offer it far and wide. You never know where it may lead you!