Maintaining the House of God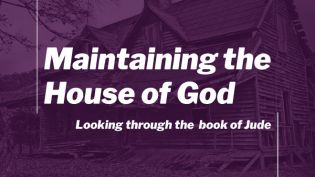 (2 images)
Our fast-paced world confronts us with many ideas that may be contrary to what the Word of God tells us. We are bombarded with opinions and ways to live life that challenge us to consider what we believe. This is a timely sermon inspired straight from the Letter of Jude.

The letter of Jude serves as a window into the early church and holds a message for all of God's people today. Full of visual imagery and striking examples, Jude's letter provides practical steps for staying full of faith.

This is an important message for the church. We have provided an unformatted transcript so you can make it your own plus a fully formatted version complete with a PowerPoint presentation covering the scriptures and visuals.

This is a message that will help empower your church to move into a new time of prayer and devotion and guidance to where the Lord wants you in this season.
Sermon Outline: Winning through Prayer
Topic: Holding on to our faith
Main Point: Jude outlines four ways to hold on to our faith
Intended Response: Follow the pattern in Jude
Category: Vision / Inspiration
This resource is included in the following collection(s):