"Friends of Christ"…..their first 100 days in office
27 April 2012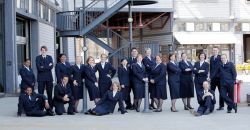 They say time flies when you're having fun. That has certainly been the case for the newly commissioned Lieutenants of the "Friends of Christ" session. So what have the challenges been in their first 100 days of officership… and what are the achievements, surprises and highlights so far?
The years of study in the training college can't possibly prepare for everything in officership so it is common for many new Lieutenants to feel anxious as they begin in ministry. A great achievement however, is being able to channel that anxiousness into a strong reliance on God, something they are learning to do on a daily basis.
Lieutenant Teena Hughes enjoys her ministry from behind prison walls. "When I first learnt of my appointment as Prison Chaplain it was my intention to assist the inmates to find personal inner freedom despite the physical boundaries that keep them imprisoned" she said. Teena is realizing the value of her ministry to both inmates and staff, and that it is making a difference on a daily basis.
Other Lieutenants have set practical goals of starting Street Ministry, putting systems in place for preaching and visitation, as well as completing the odd renovation.
In Far North Queensland Lieutenant Vanessa Kohler has started a new ministry in a community still hurting after being ravished by a natural disaster. "I was really keen just to get involved in my community" she said "so I joined a gym, a netball team and got involved at a local school." In a small community word gets around, and the word is that The Salvation Army is there to stay.
Even in just 100 days there have been surprises for them all. The new Lieutenants are learning to be flexible, work with employees and manage budgets. Some have inherited "unfriendly" computers but have managed to become good friends. Although some feel they've been thrown in at the deep end the big surprise has been how simple ministry can be if you love God, love your people and love your community.
Surprises aside, there have been many highlights for our new Lieutenants. For some a highlight has been sharing that "light bulb" moment of gaining a fresh understanding of God's love over the Easter weekend and helping new Christians on their journey of discipleship. For others it has been meeting and journeying with the locals through hotel ministry, enjoying a healthy partnership with the local school, and seeing the imprisoned keen to participate in interactive programs.
Building relationships with the local community and church family are vital to an effective ministry and the new Lieutenants are off to a great start. Some of the people being ministered to have suffered serious illness and experienced severe loss but for Lieutenant Kylie Hodges this ministry has been a highlight. "Being able to journey not only with them and their family but the corps as well has been a major highlight for me" she said. Lieutenant Lara Sutcliffe acknowledges that it's great to give people food and emergency relief, but as she says "it's the opportunity to pray with them and invite them to church that makes the real difference."
Since leaving the training college the "Friends of Christ" have shared the joys of two weddings, one new baby and another one on the way. It just goes to show a lot can happen in a short space of time. So it's 100 down….another 10,000 to go.
Report by Major Carolyn Harmer