The Joy is Jesus
4 July 2012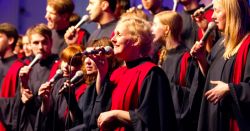 ---
Sweden Salvation Army's VASA Gospel Choir and Band is wowing audiences in Australia. Lauren Martin reports on their music, their ministry, and their penchant for swimming in the middle of winter...
If you closed your eyes during the Hurstville Corps meeting last Sunday you could have imagined yourself sitting in a black African church in the deep south of USA. The VASA Gospel Choir was in full swing, mesmorising the fellowship with its upbeat song Follow You, followed by the poignant Thank you Lord.
The choir began 18 years ago out of Vasa Salvation Army in Sweden. Since then, it has toured Europe, the United States and now Australia.
"There's a lot of joy in gospel music and that's what we want to bring to the people," says choir leader, Tina Holmlund. "Many people say 'I'm not a Christian but I love gospel music, I love the dancing, I love the joy.' And the joy is Jesus."
The heart of the choir is to share that love of Jesus with others – both within the church and in outreach.
The choir decided to tour to Australia after meeting Graeme Hodge, an Australian Salvationist based in London at a concert in Stockholm. He assisted with a Vasa Choir trip to England and subsequently organised the Eastern Territory tour.
So far, Vasa Choir and Band has performed at Sydney Congress Hall; Streetlevel Mission, Sydney; Hurstville Salvation Army, southern Sydney and Parramatta Salvation Army, western Sydney.
Whilst here, members are also involved in workshops with interested singers and musicians, teaching about their gospel style of worship and ministry.
"We don't teach as they do in the songsters with sheet music and with lyrics. We teach everything so you should know it by heart," says Tina. "If you know the songs by heart you can focus on the expressions, the communication with the audience. It's coming from the heart."
Despite visiting Australia in the middle of winter, members of the band and choir couldn't resist a dip in the icy-cold waters of Sydney's famous Manly Beach:
"When you're in Australia you have to go swimming," Tina laughs.
The Vasa Choir and Band will perform in Canberra, Wollongong, Tweed Heads and Brisbane before heading back to Stockholm later in the month, leaving behind new-found friends and (mostly) warm memories!
Full details of the Vasa Choir and Band tour can be found at: www.vasagospel.com or follow the choir on facebook/ twitter / youTube by searching VASAGOSPEL.