REACHing for the Pacific
12 August 2013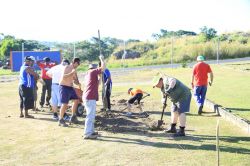 ---
Bonnells Bay Corps Officer, Captain Tim Gittins, reflects on a recent mission trip to Fiji.
Fiji … idyllic white beaches under blue skies surrounded by pristine turquoise waters, luxurious retreats, relaxed schedules, suntans, snorkelling and sleeping.  That's what most people in Australia picture when they think of Fiji.  But for 10 adults and five children from Lake Macquarie on the NSW central coast, thoughts of Fiji will not be like that any longer.
The 15 REACH team members from The Salvation Army's Bonnells Bay Corps travelled to the Saweni Corps – located halfway between Nadi and Lautoka on the main Island of Viti Levu – for nine days from 6July. Their goal was to construct a concrete volleyball court at the corps and to conduct repairs on two local houses damaged in a recent hurricane.
Living on site at the corps property gave the group a tremendous opportunity to build relationships with the many people who lived at or visited the property.  From day one, the children were the key to breaking down barriers and connecting people.  Aussie kids sitting on steps chatting with Fijian teens, and Fijian and Aussie kids mobbing a blue Aussie puppet named Ollie, set the pace for the adults who quickly followed their lead and connected closely to the incredibly gracious and hospitable local people.  The church services were overwhelming and inspiring, and no-one could question the depth or enthusiasm of their faith.  As one team member said: "Seeing the pure love of God in these people's lives strengthened my faith…"
By lunchtime on the first work day, the concrete slab had necessarily quadrupled in size. The concrete was going to be mixed onsite with a hired mixer, rather than delivered in a ready-mix truck, and the team saw first-hand what "Fiji time" really means. But most of all, people of different backgrounds, cultures and races had already bonded and unified over a common cause.
By lunchtime on the last workday, the slab had been completed, with one-third of the concrete brought in a ready-mix truck. A home had been re-roofed, another home had been given significant improvements (with one day's work turning into three days) and lives had been transformed beyond anyone's expectation.  The Aussie team were proud of one another and the work they contributed to alongside their Fijian brothers and sisters, and absolutely humbled by the opportunity and the friends they had made.
By comparison to our 'norm', the people of Saweni Corps have so few possessions, comforts and even necessities. But the faith, joy, love, hospitality, generosity and vibrancy they show is both overwhelming and challenging.  The power, providence and patience of God was tangible throughout the trip, and already the team have begun to look into options for continuing to build and develop the relationship between Bonnells Bay Corps and Saweni corps in the months and years to come.
One of the team's members summed up their overall experience: "It was the most amazing experience ever. I met amazing people and spent time with amazing people. Mission trips are a great thing to do; they teach you responsibility and how to adapt to new situations you're not used to. I learned about that and more. The people I met while over there were some of the loveliest ever. They have so little, yet so much. I think we could all learn something from them."