Federal Election 2013: Poverty reduction
2 September 2013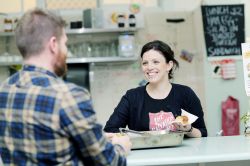 The Salvation Army, as one of the largest not-for-profit social services providers in Australia, is a non-partisan organisation. We ask that all political parties during this election campaign consider our statements in relation to their social policies.
Emergency relief, financial counselling and Newstart benefits
The Salvation Army has a long history of working with people experiencing poverty and hardship in Australia, through the provision of a range of supports and services. The Salvation Army is committed to ensuring that the rights and inherent dignity of all people are upheld at all levels of society.
Poverty has two elements:
The lack of access to a fair, sustainable, minimum standard of living specific to the need for adequate income, employment, health care, food, housing and education; and
The lack of opportunity to participate fully in society, including social and spiritual expression.
The Salvation Army's experience with disadvantaged Australians demonstrates that without these basic necessities being met, people survive but do not flourish as full participating members of society.
In the past 12 months, The Salvation Army provided over one million occasions of service to people in need. This included providing more than 230,000 people with emergency relief through 237 sites nationally, and over 100,000 meals. The Salvation Army emergency relief services are based on an understanding that there are often much more complex issues and social disadvantage underpinning these requests for assistance. The Salvation Army's approach is known as 'Doorways', and recognises that every request for assistance provides an opportunity for an individual or family to be empowered, connected and holistically supported. This framework is closely aligned to current broader policy objectives that promote integrated service delivery, individual capacity building and a 'Hand up, not a hand out!' The Doorways philosophy seeks to address the underlying factors leading to poverty, both for people experiencing long-term and entrenched deprivation and disengagement, and the growing number of people experiencing situational poverty.
In 2012-13, The Salvation Army contributed approximately $18 million of its own funds to providing emergency relief and community support services across Australia.
The Salvation Army is committed to ongoing research and the development of our information-gathering systems in an eort to provide the services which are most needed by the vulnerable in society. This is gathered through a number of sources, including our pilot of the Crisis Referral Information System, an online community support services directory; our national Service and Mission Information System (SAMIS) which collects significant details and data regarding our clients 'om funded and non-funded programs, allowing us to identi( emerging trends and issues; and our annual National Economic and Social Impact Survey which has been undertaken since 2011 and gives a unique insight into the experiences of Australians who are doing it tough. As one of the nation's largest providers of emergency relief and other social support programs in Australia and as an organisation which is commi$ed to ongoing research and service provision review, The Salvation Army is uniquely placed to work together with Government to identify emerging trends and current issues facing our most marginalised citizens.
Issues for consideration
A significant proportion of people accessing The Salvation Army's emergency relief and support services are struggling to meet everyday expenses and financial commitments. Most of our clients are reliant upon income support payments, with 90% of respondents to The Salvation Army's 2013 National Economic and Social Impact Survey indicating that they were receiving such payments. The constant struggle to maintain an 'adequate' standard of living requires juggling expenses (such as bills, rent, and food) within an extremely tight budget and without access to emergency funds. A very high 92% of respondents reported not having access to up to $500 if they experienced an emergency. Restricted economic circumstances impacts social connections, health and wellbeing, with 36% of respondents reporting no regular social contact with other people, 60% delaying dental treatment, 35% being unable to aord prescriptions, and 23% delaying medical treatment. 35% of respondents said they often feel 'very lonely'.
Two thirds of respondents (66%) reported cutting down on basic necessities and over half of respondents (51%) had gone without meals due to finnancial hardship. Over half (58%) reported having to delay payment of utility bills and 30% reported delaying rent or mortgage payments1.
The Salvation Army is a large provider of financial counselling in Australia. A research project conducted by Swinburne University of Technology for The Salvation Army in 2012 – 'I Wish I'd Known Sooner: The Impact of Financial Counselling on Debt Resolution and Personal Wellbeing' - found that financial counselling is effective and provides measurable, positive outcomes on a range of measures and that seeking financial counselling sooner increases the chances that financial difficulties can be resolved2.
The Salvation Army has also found that many people in financial hardship have accessed 'fringe and predatory lenders in a desperate eort to meet their needs, which has resulted in further hardship. The Salvation Army provides the No Interest Loans Scheme (NILS) - an alternative, affordable loans program under the accreditation of Good Shepherd Microfinance.
The Salvation Army supports the ACOSS Campaign3 to raise the level of Newstart income support, as we have seen that the current Newstart rate is insufficient to make ends meet. Thus, some of our clients are living below the poverty line.
Recent national innovations (such as the Home Energy Saver Scheme which helps and educates low income families with strategies to address high energy usage and bills) have been welcomed by many of our clients and programs. In addition, The Salvation Army has found great benefit in funded programs targeted at vulnerable families and those at risk of homelessness, and welcomes increased access to financial counselling support for people experiencing gambling related issues.
Call for Action
The Salvation Army calls on all political parties to commit to the following:
An increase of the Newstart Allowance by $50 per week to address the manifest inadequacy of this payment;
Continuation and expansion of funding for emergency relief with an emphasis on provision of funds for case management staffing;
Continuation and expansion of funding for financial counselling services across Australia;
Continuation and expansion of funding for the No Interest Loans Scheme (NILS);
Work with organisations, like The Salvation Army, to identify emerging trends and issues from unique data collections reflecting the experiences of clients seeking assistance from funded and non-funded programs; and
National expansion of the Crisis Referral Information System.
Click here to read all of The Salvation Army's statements for the Federal Election.
1  The Salvation Army Australia, It's Not Asking Too Much: National Economic and Social Impact Survey (2013), h$p://salvos.org.au/about-us/ media-centre/documents/2013_05_22-MRNationalEconomicandSocialImpactSurvey2013.pdf
2  Dr Nicola Brackertz, I Wish I'd Known Sooner: The Impact of Financial Counselling on Debt Resolution and Personal Wellbeing (2012), The Salvation Army Australia Southern Territory, h$p://www.salvationarmy.org.au/Global/News%20and%20Media/Reports/2012/00099-I-wish- I-had-known-sooner-Oct-2012.pdf
3  Australian Council of Social Services (ACOSS), '$35 a day is not enough!', h$p://www.acoss.org.au/take_action/
allowances_statement_2012-02/