My Salvos Stores launches on to eBay
4 November 2013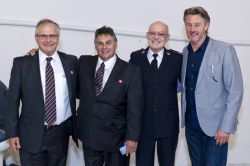 ---
My Salvos Stores launched its eBay site at District01 in Surry Hills last week, with brand ambassador and Channel Ten's The Living Room host, Barry du Bois.
Territorial Chief Secretary, Colonel Richard Munn, spoke at the event about how Salvos Stores are often at the frontline of The Salvation Army's Mission.
"Salvos Stores often provide the main entryway to who The Salvation Army is for the general public. This is vital to any business and enterprise; to be able to provide a frontline and create a first impression, a place where people have a positive interaction with the organisation or movement."
Currently, across the Australia Eastern Territory, there are 100 Salvos Stores, which operate to fund The Salvation Army's wider mission. There are also an additional 200 Family Stores, which are run by local churches.
The eBay site will house furniture, home wares, and rare collector's items, which have been generously donated to Salvos Stores. Customers will be able to either bid on an item, or 'buy it now'. Various items available for sale on the eBay store were on display on the night and guests were able to browse the online store on iPad's displayed around the room.
Barry du Bois spoke passionately about how he is proud to be a part of this initiative.
"If everybody in this room doesn't want this to be a great success, I'm on another planet," said Mr du Bois. "I'm involved in something that matters. In the TV world and media world, we lose that balance. And I've been brought back to earth. We're all a part of something that really matters."
Salvos Stores General Manager, Neville Barrett, hopes the website will be able to generate more funds for the wider mission of The Salvation Army.
"We'll be able to provide better returns, and hopefully become better stewards of those goods that are generously donated," says Mr Barrett. "We also want to thank our staff, who give of themselves so selflessly day in and day out."
To check out the My Salvos Stores eBay site, visit: http://stores.ebay.com.au/mysalvosstores