Chris is no longer alone
3 June 2014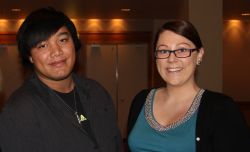 ---
At the age of 12, Chris found himself at an airport in a new country, waiting for his mother to pick him up. But she never arrived.
"From that point on I didn't have any family. I didn't have anyone to support me. I was alone," says Chris. "I wouldn't wish it on my worst enemy".
Chris, now aged 22, explains he was passed between distant family members for much of his young life.
"I was abused really badly as a kid. The last time it had happened, I was actually tied behind a motorbike and dragged for 50 metres. I had grass burns from my tailbone to my ankles and pipe marks up my arms and legs."
Just before he died, Chris's grandfather put Chris on a plane from New Zealand to Australia, hoping to save his grandson from further abuse. But Chris's mum, who had left New Zealand years earlier, was expected to pick him up in Sydney. She never appeared.
Chris was immediately placed into the care of the state.
Having been abused, abandoned and rejected, with few healthy role models in his life, Chris became an angry, violent young man. He started experimenting with alcohol and drugs and ended up in trouble with the law. He moved between placements and youth refuges, never settling.
Today, Chris has found stability.
Chris became a client of The Salvation Army's Oasis Youth Services in the ACT at the age of 15, and is still supported on an outreach basis at 22. He says without the support of The Salvation Army, he probably would not be alive today to tell his story.
Chris says he was eventually sent to Oasis Youth Services where he says, "I felt like I had a place to belong.
"They helped me set up goals, to manage my own anger, and helped me with the emotional problems I'd been having. (Now manager) Carolyn gave me a shoulder to cry on, and whenever I fell down, she was there to pick me up."
Chris says today his future looks "a lot brighter".
"I now have my own home and I'm back at school studying and I hope one day I can become a worker like Carolyn, so I can help someone else in my position."
Carolyn Campbell who manages the ACT Youth Homelessness Programs for The Salvation Army's Oasis Youth Services, says many homeless young people like Chris come from violent or traumatic backgrounds. She says they often need long-term support to build trust and self-esteem.
"Sadly, many like Chris have not had a stable childhood and have not learned how to participate in healthy relationships," says Carolyn.
"We not only teach practical living skills like cooking, cleaning, budgeting and hygiene, but also work on the essential skills around relationships, coping strategies, anger management and self-esteem. 
"Chris has really overcome some incredible challenges. He has strong ideals and a really strong commitment to himself and his future. I am sure he will continue to grow and to achieve anything he sets his mind to," she says.