Salvos Street Teams making a difference
20 February 2015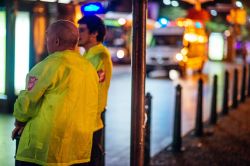 The Salvos Street Teams will help keep the streets of Sydney safe for another three months. (Credit: Photo by Cal Harmer)

---
The pilot Salvos Street Teams program in Sydney's city centre, implemented to reduce alcohol-related violence among young people on Friday and Saturday evenings, has been extended for another three months.

More than 1700 people have been assisted through the program, which began in December at an established "Safe Space" in Sydney Square (next to Town Hall).

The success of the joint initiative with The Salvation Army, the City of Sydney and the NSW Government, has motivated the state government to invest an extra $37,500 to allow the "Safe Space" to continue until the end of May.

Since the program began, a team of 130 trained volunteers has provided transport information, handed out 2300 bottles of water, 250 pairs of thongs, charged 170 phones and given first aid to 200 people from 10pm to 4am.

"The pilot has been a great success – we've had hundreds of people from the community put their hand up to volunteer and people on the street have really appreciated having the ambassadors around the city on weekends," said Salvos Street Teams leader Nate Brown.

"Most importantly, there have been many times we've been able to help people who have been in very vulnerable situations."
The teams have been able to prevent violence from escalating on the streets, help intoxicated individuals find their way home and prevent assaults from occuring. Nate explained how they assisted one individual from being a possible victim of sexual assault.
"There was a young lady – she was by herself outside a club waiting for her friend who was still inside and she was being coaxed into a taxi by an older man that she didn't know at all and the team was able to step in … and told him to leave.
"[They were] able to sit with her while she was calling her sister and she came and picked her up. She was highly vulnerable and to get her home safely at night was a huge win for us."

Nate said he hopes to secure long-term funding for the program to ultimately keep the streets of Sydney safer.