Volunteer brightens residents' day
15 May 2015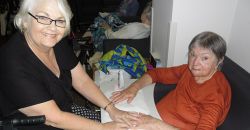 "I'm doing it for me; volunteering helps me. It may sound selfish, but that's why I do it," said Cath Porter, a volunteer at The Cairns Aged Care Plus Centre at Chapel Hill.
After a rewarding career as a teacher librarian, Cath was looking for some structure in her life as she entered retirement. She was spending a lot of time visiting her father, a resident at The Cairns Aged Care Plus Centre, so she applied to offer her services as a volunteer there. Cath was asked to become the resident's manicurist.
"I was a bit apprehensive but gave it a go; apprehensive about doing the nails with the residents. I have no problems making conversation!" said Cath.
The apprehension didn't last long. She now has a regular group of ladies she gives manicures to along with a cuppa and a chat and fondly refers to them as 'my ladies'.
Cath believes it's important to keep residents interested, with different things to do and talk about.
"Their world has changed. And everyone needs conversation and companionship to keep their day interesting," said Cath.
"Our onsite Diversional Therapists do a fantastic job. There is always something going on. They tailor activities to what their clientele want and need. Volunteers complement this with general chit chat, companionship, someone to have a cuppa with and get their nails done.
 "I hope I provide a diversion in their day, something to keep them interested and occupied," Cath continued.
Cath is just one in over 6 million volunteers in Australia and this week we recognise their outstanding efforts during National Volunteer Week.

Aged Care Plus have around 280 active volunteers who provide amazing support to our residents such as a chat over a cuppa, helping our residents join their fellow residents at meal time, giving manicures and haircuts. On average our volunteers provide 900 hours of support each month across all of our Aged Care Plus Centres.