40 Days on the Kingdom - Bible Reading Plan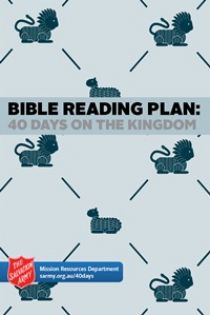 40 Days on the Kingdom is a Bible Reading Plan designed to help you understand what Christians mean when we speak about "the Kingdom of God". Each day in the plan includes a biblical reference to read, and some contemplation questions to ponder.
The Bible Reading Plan builds up a broadly biblical picture of the kingdom of God, starting with how the people of Israel understood the kingdom of God, how the exile increased their expectation of a messiah who would inaugurate God's rule on earth through the state of Israel. Then we look at Jesus' teachings and how his miracles pointed to the kingdom. Finally we look at the tension of God's kingdom being "here" but also "still coming". What is our responsibility as Christians in the lead-up to the consummation of the kingdom?
40 Days on the Kingdom A5 Sheets - Use the booklet printing settings on your printer. Fold and staple.
40 Days on the Kingdom A5 Spread - Print double-sided, fold and staple.
Category: Discipleship