Easter: The Door to Life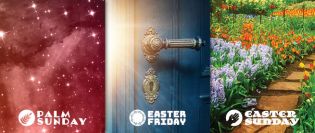 The Door to Life
As part of the Salvation Army's national vision statement, there is a emphasis on 'transformation one life at a time'. And this is a theme we see repeated again and again in Jesus' ministry. Individuals encountering Jesus and having a transformational experience! The theme of this Easter series explores the stories of three people who encountered Jesus and had their lives, and their communities, transformed as a result. 
Complete sermon presentations for Palm Sunday, Good Friday and Easter Sunday with engaging professionally designed images, videos and PowerPoint presentations are ready to downlaod and make your own. 
Download the files and you will see sermon outlines and transcripts with a message which seeks to engage your congregation by exploring the dramatic imagery of Jesus as the door to life. This will save you hours of preparation and help you to focus on the people you care for.
Individual Videos:
Category: Events / Campaigns, Promotion / Communication, Vision / Inspiration
This resource is included in the following collection(s):