Founders Day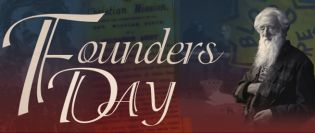 As the General lay in his bed, mostly blind and unable to stand, he gave his son and Chief of the Staff his instructions for after his death. With Bramwell attentively listening, Booth said, "I want you to promise me that when my voice is silent and I am gone from you, you will use such influence as you may possess with the Army to do more for the homeless of the world, the homeless men…The homeless women! Ah, my boy, we don't know what it is to be without a home…The homeless children, oh, the children! Bramwell, look after the homeless. Promise me!"
(David M. Bennett, The General: William Booth, Volume 2 - The Soldier, p407-408). 
On this Founder's Day, when we traditionally look back on the birth of our movement, the religious zeal and sacrificial service of the Army of the past, perhaps we should turn our focus to the mission of the Army today. Are we impacting the world with the message of Christ, preaching to the all those who do not know him? Are we working to serving the world, address social need and injustice in the name of the Father? Are we living up to the missional zeal of our Lord?
Related Documentaries
Both documentaries are available on DVD from Salvationist Supplies or are available to stream or download on Amazon Prime.
Category: Events / Campaigns
This resource is included in the following collection(s):