You are here:
Home › Toolkit › Holy Reflector Made In The Image Of God (Sermon Series Week 1) (Resource ID 1164)
Holy Reflector - Made in the Image of God (Sermon Series - Week 1)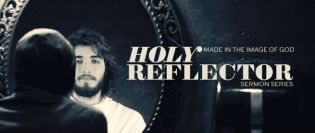 Holy Reflector - The Image of God in Creation
Preaching about 'The Image of God' this Sunday?
This Sermon Series looks at the idea of being created in the image of God. It starts with what this tells us about the nature of humanity and our value. We look at the special role given to human beings as bearers of the divine image. It becomes clear that God made us on purpose and for a purpose, to rule over his creation on his behalf. The problem of sin is dealt with by looking at Jesus who "is the image of the invisible God", and how his work restores us to the role God originally intended for us. We look finally at mission in this context, understanding the role of cultivating the garden and subduing the earth as a metaphor for the expansion of the Kingdom of God.
WEEK 1: The Image of God in Creation
WEEK 2: Jesus as the Image of the Invisible God
WEEK 3: Mission & The Image of God
For every week you will find video clips, PowerPoint slides and sermon notes to help your congregation explore this life changing theme. 
Sermon notes and PowerPoint files are attached for easy downloading and WEEK 1's video can be found HERE.
Category: Vision / Inspiration
This resource is included in the following collection(s):