Living Our Vision - Vision Resources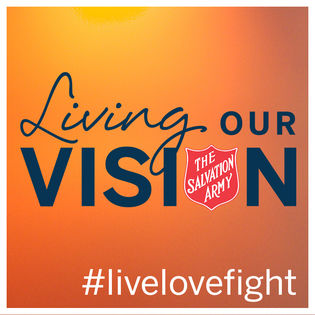 (2 images)
Living Our Vision
From February 11th to March 18th, 2018 Salvos throughout the movement will have opportunity to engage further with the National Vision in a six week 'Living our Vision' campaign.
An introduction week will be followed by five weeks, each focused on unpacking a line of the National Vision Statement.
To help engage in Living Our Vision, a collection of vision booster resources have been created for leaders to use, accommodating the diversity of Salvation Army expressions throughout our nation.
All the below resources can be found here.
Sermon outlines – available in various versions with accompanying video clips and PowerPoint slides.
Videos – featuring real stories from Salvation Army corps and centres (MPG format).
Children's ministry materials – for use with your Junior Soldiers or Sunday School group. #livelovefight Kids Response - Video
Youth devotional & small group materials – for use with youth group gatherings and high school students.
Adult devotions/discussion materials – for use in Corps small groups, and staff or team meetings.
Prayer room materials - for organising a group prayer event for the vision, including activities and print
Other translations - of the vision statement into Chinese and Korean in PowerPoint format
Additional Resources - THQ Support Services and Social Program Centre information 
Category: Events / Campaigns, Promotion / Communication, Vision / Inspiration
This resource is included in the following collection(s):