Young Adults: Next Gen Pack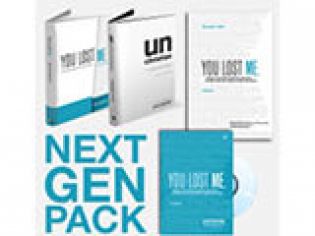 This resource pack is a must have for anyone who is connected with Young Adults.
This 4 in 1 pack provides extensive and thorough 
research, discussion guides and thought provoking principles to help educate and inform best practise for Young Adult Ministry.
The pack doesn't stop at the theoretical, it moves in to helping unpack some practical steps forward for those interested in bridging the generation gap.
Unchristian
Ministry may never have been more confusing and complex - or have more opportunities. To connect young people to Jesus, we have to understand what they think and why. Immerse yourself in the mindset of the next generation, understanding their skepticism and their experiences, as well as their points of spiritual openness.

You Lost Me
Discover why so many Millennials (18-29 years old) are disengaging from the faith community. This book will renew your hope for how God is at work in the next generation of teens and young adults, and reveal how you can join in.

You Lost Me DVD
This powerful tool will facilitate intergenerational conversations while generating understanding and honest communication about spirituality. The You Lost Me DVD set includes 6 sessions filled with candid interviews and insights from author ofYou Lost Me David Kinnaman.

You Lost Me DVD Discussion Guide
An accompanying material to the You Lost Me DVD that will empower meaningful conversations.
For more information and to order this excellent resource go to the link in the bar to the right. 
Category: Discipleship, Training / How-To