MORE young disciple makers
27 August 2013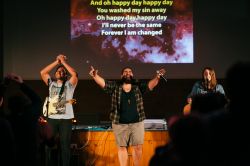 ---
'Every young Salvo a disciple maker' was the running theme at two Youth Ministry Conferences in Queensland and NSW in early August.
Over 380 youth and children's leaders turned out to the conferences run by The Salvation Army's MORE youth team.
"It was such a rich experience to see youth and children's ministry leaders encouraging and inspiring each other and making big, bold faith goals," explained Claire Hill, Territorial Mission Coordinator – Youth.
The Queensland delegates were entertained by illusionist, Christopher Wayne, a crowd favourite from last year's conference. They also heard from Dustan Bell, Campus Pastor at Calvary Christian Church in Townsville and Andy Gourley, National Coordinator of Red Frogs Australia Chaplaincy Network.
Guest speakers at the NSW event included Scott "Sanga" Samways, Director of Youth Alive NSW and Dave Reardon, Young Adults pastor at Shirelive Church.
In response to the conference theme, leaders came forward and wrote their faith goals on large pieces of card at the front of the auditorium.
Claire Hill, along with Tammy Tolman, Lead Pastor at Intergenerational Arts Community in NSW and children's ministry expert spoke at both conferences.
"In my final NSW session, I shared about faith. God loves faith. He wants to do huge, transformational things in our youth and kids ministries. What will we believe for?" says Claire.
The Youth Ministry Conference has shifted its focus to cater for not only youth leaders but children's leaders as well.
"We were thrilled by how many children's ministry leaders attended this year. There were more children's ministry workshops than ever before and these were well attended," says Claire.
"I believe there is an increasing understanding that we need to have an integrated approach to ministry: we need to work together."
At the NSW conference workshops, Becky Douglass, Children's Minister from Gymea Baptist Church gave advice to children's leaders and Matt Godkin, Menai Corps Youth Pastor, shared about mentoring.
"The main purpose was to get people at the end of the session to say, 'I want to pursue this mentoring'," says Matt.
At the Queensland workshops, Sarah-Jane Alley, who recently served at the London Olympics in sports ministry, and Letitia Shelton, CEO of City Women, gave discipleship advice for young women.
Overall, Claire says she sensed that many leaders were greatly inspired for ministry within their own local corps and churches.
"I loved eavesdropping on conversations where leaders were telling each other how much they had gotten out of the conference; how much a particular workshop or speak or connection helped them."